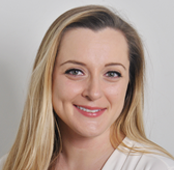 Chrissanthi graduated at prestigious Karolinska Institute in Stockholm, Sweden, in 2007. She started her career working as an dentist in Stockholms largest emergency dental practice giving her a broad experience treating different dental conditions and patients with dental anxiety. It was here that her special interest in endodonticts (root canal treatments) first started. She was also a member of the Swedish Association of Cosmetic Dentistry.
Upon moving to London in 2011 she has been working in private practice and continually attend courses in her special interest of root canal treatments and cosmetic dentistry.
Chris takes a Scandinavian approach to dentistry and is an advocate of biomimetic dentistry: minimally invasive procedures that emulate the nature of patients' teeth. This approach allows her to achieve maximum conservation of tooth structure and exceptional aesthetics for 25 Devonshire place patients.
It is very important for her to take the anxiety away from patients undergoing root canal treatment so that out patients can feel relaxed and comfortable!
During her spare time she likes to travel the world with her partner and spend time with her family.
Chris is fluent in Swedish, English and Greek.