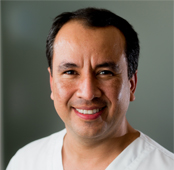 Having started as a dental technician almost three decades ago, Jesus was urged by colleagues who identified a natural aptitude for his work to further pursue his passion.
Dr Jesus Orozco completed his degree in Dental Surgery 20 years ago and gained his second qualification as a Dentist at European University of Madrid in 2013. His first post graduate qualification was in Endodontics in 1998 where he continued with his general practice and Endodontics. In 2001 he undertook to expand his knowledge into cosmetic and prosthodontics. In 2011 Jesus began training in Implantology with his first degree completed in Spain and now is finishing a Cambridge Implantology which he expected to complete this summer.
As with all the members of the team, Jesus is a warm and empathic dentist who takes pride in taking much care of even the most anxious of patients.